I was thinking about blogging about something else, but after a friend sent me this morning. There isn't more I can say but Ya Ya!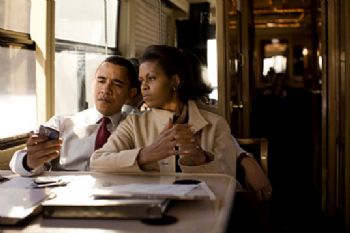 One night President Obama and his wife Michelle decided to do something out of routine and go for a casual dinner at a restaurant that wasn't too luxurious. When they were seated, the owner of the restaurant asked the president's secret service, if he could please speak to the First Lady in private. They obliged and Michelle had a conversation with the owner.
Following this conversation President Obama asked Michelle, why was he so interested in talking to you. She mentioned that in her teenage years, he had been madly in love with her.
President Obama then said, "so if you had married him, you would now be the owner of this lovely restaurant", to which Michelle responded, "No, if I had married him, he would now be the President".
And lets face it she has killer arms and poise, intelligence to boot.
Fierce, ferocious and smart as a whip
Killer dress, style & panache
And a man who loves her unashamed to do so publicly & not embarrassed to show it..

Searching for a miracle, expecting the impossible~Unknown author
A shout out to Jacquie for sending this timely story...